Tallit
On Shabbat , holidays or when you help someone celebrate a special simcha, you wrap yourself in a talit and bring yourself closer to your heritage and your family. Imagine that talit made from silks that you select, or with embroidery in Hebrew or English with a Hebrew phrase that is meaningful to you or the name of the one you love.
A talit is a meaningful gift for a Bar or Bat Mitzvah, one that celebrates the impact of the day and is a lasting reminder of the true celebration. For a gift for a bride or groom, or to your beloved on a special anniversary, a talit or a talit bag can incorporate fabrics from important family heirlooms.
Your talit can be made from silk or wool or any fabric you choose. The atarah (neckband) may be decorative or may include a prayer. You may chose to provide fabric for the atarah from a family needlepoint or texitle with sentimental meaning. Whatever you choose, the tzitzit on your ADAR Design talit will be 100% wool from Israel.
These lovely twins just celebrated their B'not Mitzvah!
Long before the ceremony, their mother sent me her wedding gown to be used to create these matching tallitot.
The silk for the attarah, stripes and corners as well as the delicate beading on the attarah were taken directly from the gown. The Hebrew name of each family member is embroidered in the corners. The sheer joy of the day is beautifully captured in these photos.
"...I asked for the impossible and you created something beautiful. I found the symbolism and messages in it and eventually my love of it. It has become a part of our family....Hannah absolutely loves it and she is exceptionally proud of it. That is in part because of all the attention she gets from people. It turns out it's quite the attention getting piece. But, also beacuse of it's beauty, how it is so "her" with the lavender, and how meaningful it is. She wears it easily and happily whenever there's a chance.".... August 2020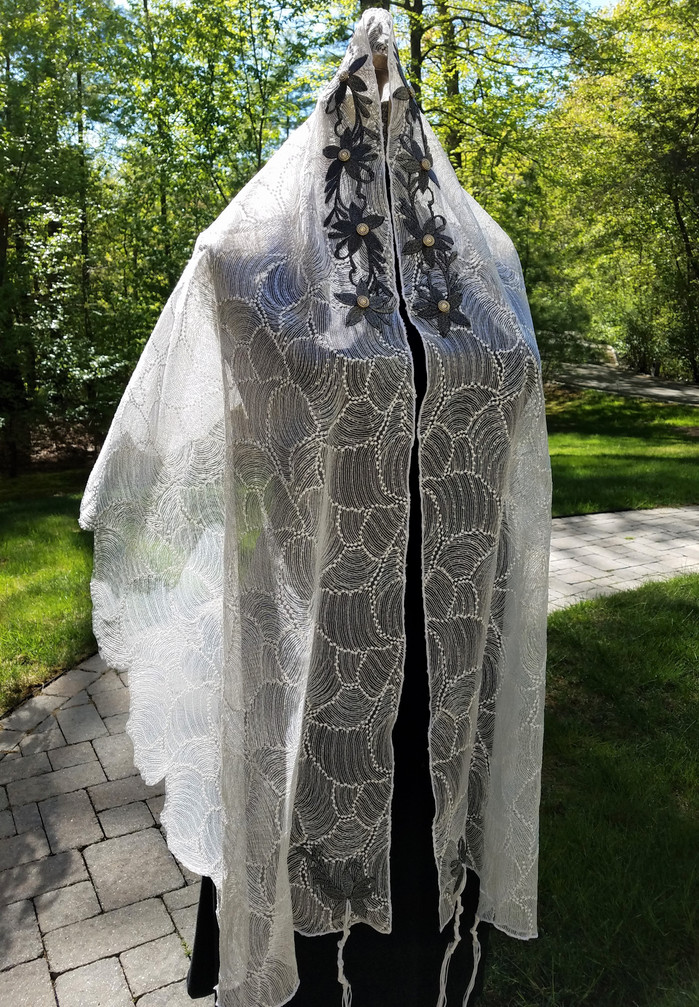 This talit was created as a gift to a newborn baby girl. It was given to her on the day of her naming. She was wrapped in the talit as she received her Hebrew names and will wear it as she steps up to read from the Torah as she becomes Bat Mitzvah.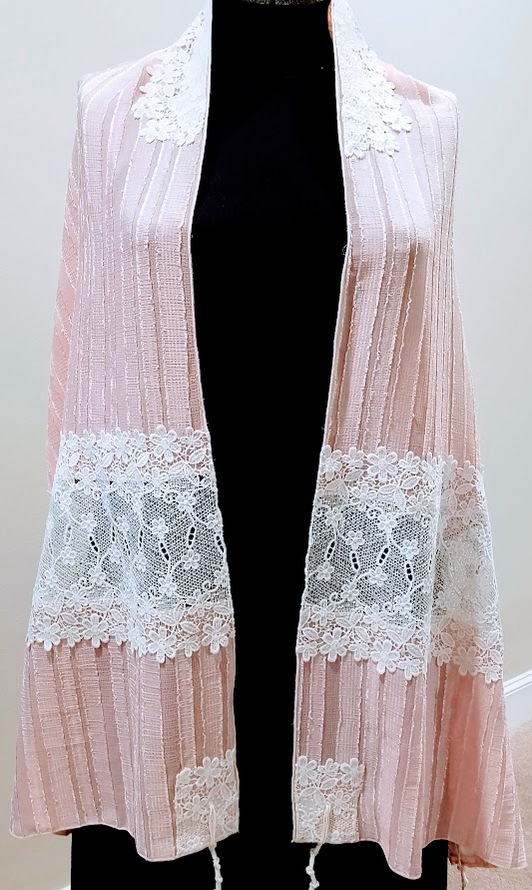 This talit is a reflection on Psalm 115
The heavens belong to Adonai;
the earth G-d has entrusted to mortals
This corners of this Bat Mitzvah talit represent the 4 members of Aviva's family;
Or, the sun
Alonah, the oak leaf
Elan, a tree
Avivah, a snow drop in springtime.
With love...
This couple is wrapped in a new talit, created for the wonderful day. His mother came to me for the embroidery, text from her own ketubah! The talit was assembled by the groom's mother, with love!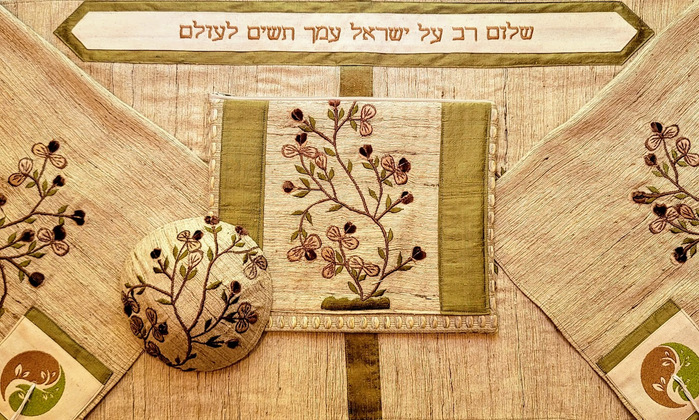 At 13 years old, teens are navigating their place in the adult world. What does it mean to identify as a Jew? How do I relate to the physical world around me? What impact do I want to make? For many teens, gender identity is the question that demands attention. If your child is grappling with this, allow them to design a tallit that will honor their initiation into Jewish adulthood with their current understanding of their identity and continue to be relevant and appropriate as they develop throughout their lifetime.
וַעֲשֵׂה־ט֑וֹב בַּקֵּ֖שׁ שָׁל֣וֹם וְרׇדְפֵֽהוּ
Do good, seek peace and pursue it
Among Ashkenazi Jews, the peacock is a symbol for joy and creativity. This vibrant silk tallit features a glorious paired peacock design on the attarah and corners that incorporate peacock feathers! The embroidery alone has 175,000 stitches!
This colorful tallit was a favorite, but had seen better days...we kept the silk stripes and re-imagined the rest!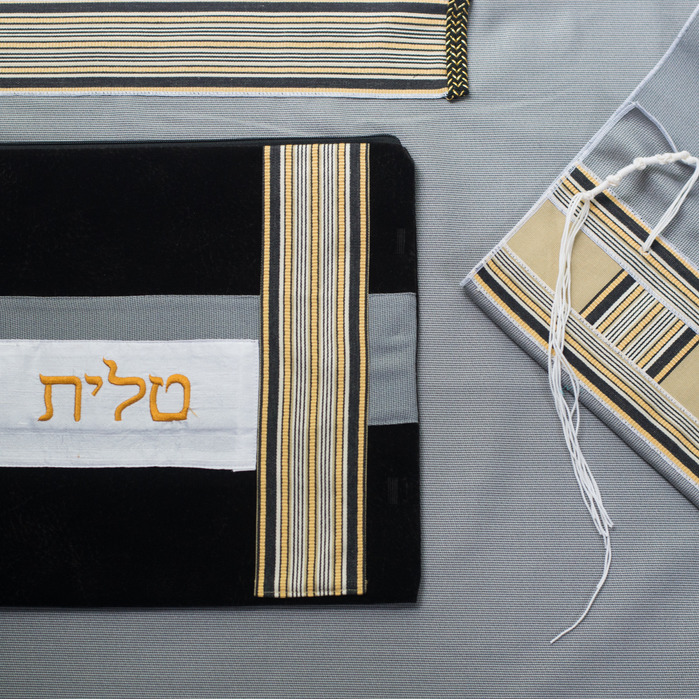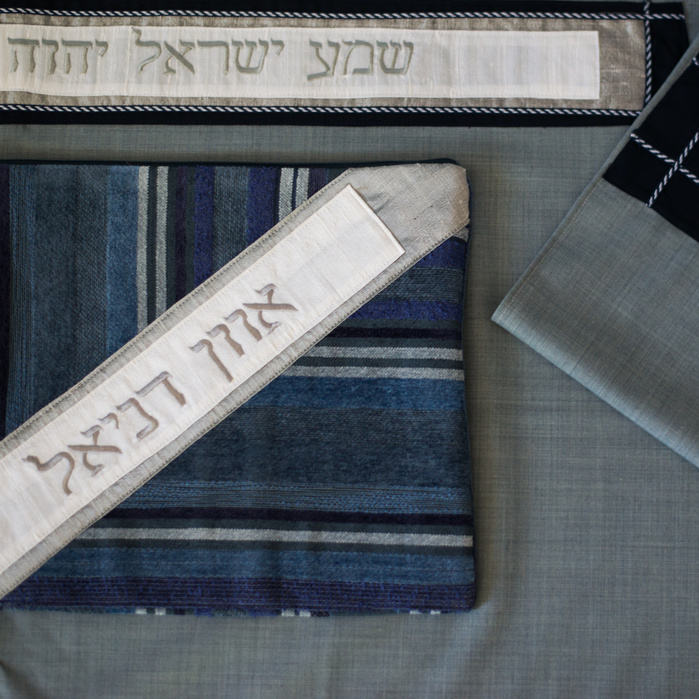 Your attarah can be a perfect opportunity to incorporate Torah text into your talit. This talit with colorful tapestry has text from Genesis 9:13 Parashat Noah
I have set my bow in the clouds, and it shall serve as a sign of the covenant between Me and the earth
While we are most familiar with a Bar/Bat Mitzvah celebration for a child of twelve or thirteen as a rite of passage becoming an adult in the Jewish community, it is also a very special honor for an adult who did not have this opportunity as a youth to read from the Torah
The process is as important and the product.
The process begins before the family arrives in my studio. We will begin with a phone call, I will ask you to tell me all about the person for whom we will be creating the talit, hobbies, interests, a bit about her as a person, her connection to Judaism and yes, the colors they like.
Then we will meet. The session usually takes about 1 ½ hours. We will choose fabrics, and design embroidery.
I will create the tallit, and when it is ready, we can schedule a final meeting for you to learn tie tzitzit and finish the last 2 corners together.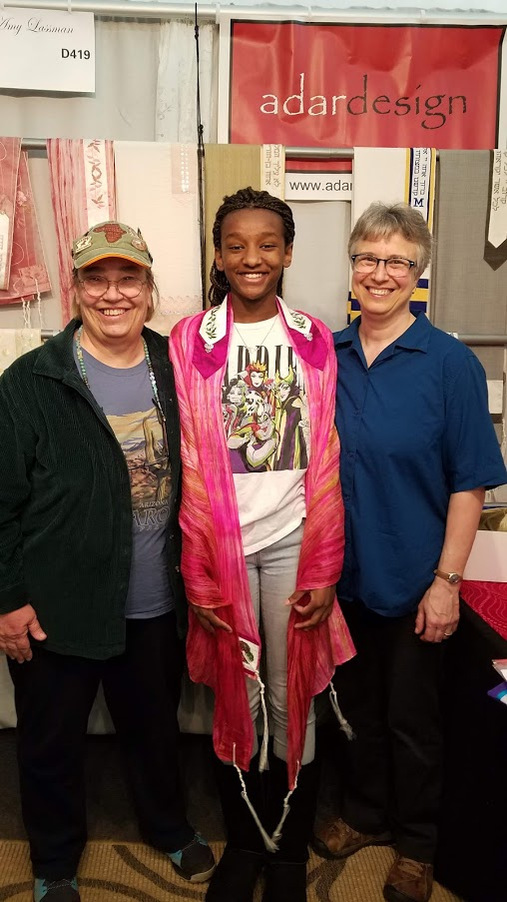 At his Bar Mitzvah at the top of Masada, this young man was wrapped in his new talit by his proud father!
On the occasion of her ordination, this lovely Cantorial Soloist came in to design and tie the tzitzit for her new talit
For this Cantor, this attarah style talit will work beautifully! His love of music and his connection to his heritage of hazanim are integrated into the text and the design.
When you are a loyal fan, you always want to sport your school colors!
The translation for the corners is as follows;
Michigan...
Go Blue...
Hail to the Victors...
Custom Hebrew name
This grandfather asked to have the tallit and tefilin bags that he received for his Bar Mitzvah to be re-imagined as tallit bags for his grandsons.